Global Women's Breakfast 2023 – Pisa 14/02/2023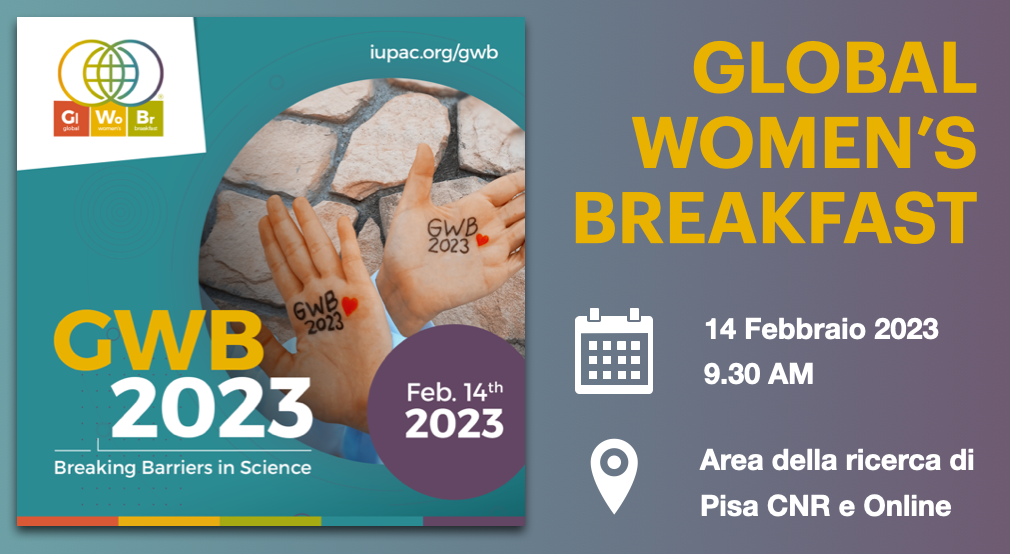 The
Global Women's Breakfast
(GWB, 
https://iupac.org/gwb/
), created by 
IUPAC
 (International Union of Pure and Applied Chemistry) in 2019, is a successful yearly initiative, held in conjunction with the U.N. Day of Women and Girls in Science. Every year many (last year 400) events are held all over the world, with the aim of establishing an active network of both women and men to overcome the barriers to gender equality in science. Women and men from all types of science organizations come together to share breakfast either virtually or in person. This year in the occasion of 
International Year of Basic Sciences for Sustainable Development (ONU)
GWB open to all the sciences.
You are invited  February, 14th 2023 (9.30 – 11.00) to a GWB  at Area della ricerca CNR of Pisa (and online). We will discuss about gender gap related statistics and personal experiences with scientist of the Area della ricerca di Pisa, expert in different disciplines.
Please have a look at the flyer of the event for more info and registration (free but necessary before February 12th). In person attendance is limited and will be assigned based on the registration order.
For more information: