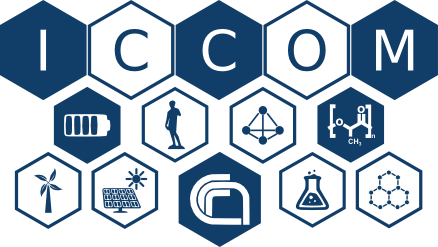 Laboratory of Advanced Energy Materials: LAEM@ICCOM
SYNTHESIS AND CHARACTERIZATION OF (ELECTRO)CATALYSTS
ICCOM-CNR has widely recognized expertise in the synthesis of inorganic, organic and organometallic compounds. Four laboratories are exclusively dedicated to the design and development of synthetic procedures and scale-up.
At LAEM@ICCOM electrocatalysts are synthesized and characterized for both anodic and cathodic processes with particular attention to Pt-free materials. Catalysts for hydrogen evolution by controlled hydrolysis or thermolysis of metal hydrides are also produced.
In addition to standard electroless procedures, non-conventional techniques are also being developed for the synthesis of nanostructured metal electrocatalysts. These comprise spontaneous deposition processes (generally, transmetalation reactions), pulse electrodeposition and nanoparticle re-shaping.
Unique expertise in the field of molecular electrocatalysts is also available at LAEM@ICCOM.
A number of conductive materials, spanning from carbon blacks (Vulcan, Ketjen Black), to carbon nanotubes, to graphene, to doped semiconductors are being used as support materials for metal electrocatalysts. Porous and mesoporous metal oxides are also studied and employed in combination with carbon blacks to support and activate metal nanoparticles.
A fully equipped electro-mechanical workshop is available for the construction of monoplanar cell hardware and small stacks (PEMFC, DAFC and PEM electrolyzers) in either acidic or alkaline environment.
In this facility reactors are designed and constructed for hydrogen production by controlled hydrolysis of metal hydrides, high-pressure electrolyzers as well as portable and stationary power generators based on PEMFC or DAFC stacks.
The characterization of all compounds and materials is carried out with the following instrumentation.
Samples handling and manipulation:
MBraun Labmaster glove-box.
Various home-made glove-boxes.
Ball mills (RETSCH MM 400).
top
Electron microscopy:
ESEM - environmental scanning electron microscopy fei quanta 200 with accessories such as energy dispersive spectrometry (EDS), and electron backscattered diffraction (EBSD) to enable chemical data collection, hot or cold stages for watching dynamic experiments.
Cryo SEM- scanning electron microscopy PHILIPS XL20 with cryo stage cryo-gatan ALTO 2100.
Cryo TEM - transmission electron microscopy PHILIPS CM 12- with STEM and cryo-holder CRYO UHRST 3500 GATAN.
top
X-ray diffraction:
X'PERT PRO Pananalytical with Cu-tube and PIX cell detector.
top
Scanning probe microscopy:
DSR XE-100 AFM/SFM atomic force microscope/scanning probe microscope.
top
Thermogravimetric analysis (TG-DTA):
Exstar TG/DTA Seiko® 6200, equipped with a differential horizontal balance to guarantee perfect baselines.
top
Temperature programmed experiments (TPD, TPO, TPR, TPRx):
Hiden CATLAB reactor. CATLAB consisting of two interconnected modules: a microreactor including temperature and flow control with corrosive-resistant seals, and a QIC-20 quadrupole mass spectrometer system, with dual faraday cup / channeltron electron multiplier.
top
Gas physisorption and surface area/pore size distribution analysis:
Micromeritics® ASAP2020N analyser for both specific surface area and pore size distribution in the 1.7-500 nm range.
top
Nuclear magnetic resonance:
Three up-dated Bruker spectrometers ranging from to 4.7 to 9.4 T (from to 200 to 400 MHz @1H). Experiments under high pressure of gas are realized with proprietary titanium-sapphire NMR tubes. Facilities for the preparation of samples in solution, in the solid state, under inert atmosphere or under a high gas pressure are also available. The facility is backed by computer facilities for NMR spectra simulation.
top
Elemental analysis:
top
Cromatography and gas-mass spectrometry:
Three GC17A Shimadzu instruments, with chiral columns.
Two GC-Ms Shimadzu QP-5000 instruments.
HPLC Shimadzu LC8A including chiral and preparative columns and array detector.
METROHM 761 Compact Ion Cromatograph.
top
Solar simulator:
top
IR and UV spectroscopy:
Shimadzu UV2100.
Perkin Elmer Spectrum BX FTIR with HP equipment.
Nicolet 6700 FTIR spectroscopy.
top
Reactors and other devices for synthesis:
Large number of home-made autoclaves as well as Parr autoclaves (stainless steel, glass).
Any type of glassware for chemical synthesis under controlled atmosphere.
CEM Microwave oven 300W (up to 300 °C, atmosphere control: H2, N2, He, Ar, O2).
Various home-made quarz furnaces (up to 1000 °C, controlled atmosphere: H2, N2, He, Ar, O2).
Muffle furnace (from 30 to 3000 °C) (NABERTHERM).
Lapping device (REMET LS 2).
top
FUEL CELLS, ELECTROLYZERS AND OTHER DEVICES FOR HYDROGEN PRODUCTION
Three labs are dedicated to the evaluation of the performance of electrocatalysts, monoplanar fuel cells (either PEMFC or DAFC) and relative stacks as well as the manufacture of membrane-electrode-assemblies (MEAs). The instrumental resources and the expertise available at these facilities allows for a fast and reliable screening of electrocatalytic materials for both oxidation (anodes) and reduction (cathodes) reactions.
Innovative anion- and cation-exchange membranes and liquid ionomers are available due to a research contract with Tokuyama Corp (Japan).
Electrochemical characterization of all materials is being carried out with the following instrumentation:
Potentiostats and other electrochemical instrumentation:
Princeton Parstat 2273 (2 A current max., 100 V compliance, 1.2 fA current resolution, >1013 Ohms input impedance, <5 pF of capacitance, 10 μHz to 1 MHz built-in analyzer for impedance).
ARBIN BT2000 (4 channels, 5 A max, 10 V max).
METROHM PGSTAT101 (10 V max, 100 mA max, 30 A resolution).
Rotating Disk Electrodes PARR 616.
Electrochemical cells for electrochemical experiments (CV, potentiodynamic, amperodynamic, etc.).
top
Fuel cell test stations:
Scribner Associates 850C (Gas control: flow, pressure, humidify, temperature; potentiostatic and galvanostatic experiments; 50 V max, 10 A max).
Scribner Associates 850E (Gas control: flow, pressure, humidify, temperature; potentiostatic and galvanostatic experiments; 50 V max, 20 A max).
top
In-situ spectroelectrochemical FTIR spectroscopy (SNIFTIRS):
SPECEC reflective module for Nicolet 6700 FTIR Spectrometer.
top
Hydraulic hot-press for manufacturs of Membrane-Electrodes Assemblies (MEAs):
GIBITRE Instruments, up to 25000 Kg, highest temperature 250 °C, max surface 400 cm².
top
Hydrogen and Oxygen Flowmeters:
Four BRONKHORST HI-TECH instruments (from 0.3 mL/min up to 200 L/min).
top
STAFF at LAEM@ICCOM
Scientific Director:
Dr. Francesco Vizza, Research Director
Permanent staff:
Dr. Werner Oberhauser, Researcher
Dr. Alessandro Lavacchi, Researcher
Dr. Manuela Bevilacqua, Researcher
Dr. Hamish Miller, Researcher
Dr. Andrea Marchionni, Researcher
Dr. Jonathan Filippi, Researcher
Associate researchers:
Prof. Paolo Fornasiero, Associate Professor at the University of Trieste.
Prof. Massimo Innocenti, Researcher at the University of Florence.
Post-Doc fellows:
Doctorate students
Maria Folliero
Maria Pagliaro
Electro-mechanical workshop:
Carlo Bartoli, technician
top